Webcam Banská Štiavnica - Panorama from height
See on webcam Panorama from height and watch the weather in Banská Štiavnica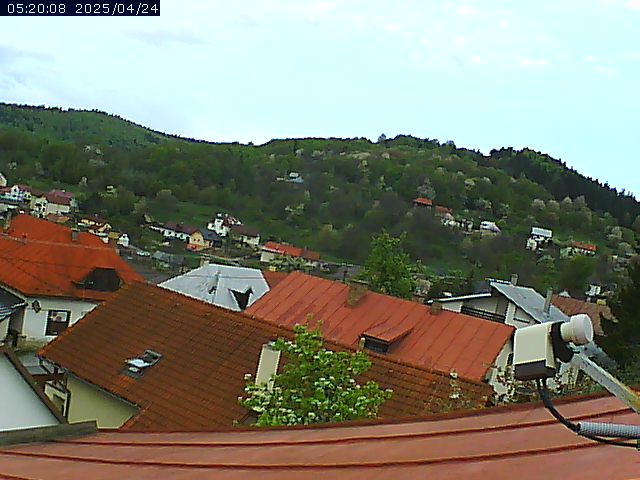 About webcam "Panorama from height" in Banská Štiavnica
The fate of Banska Stiavnica is closely connected with the exploitation of its rich resources of silver ore. According to excavations, the site was inhabited in the Neolithic period. The first mining settlement was founded by Celts in the III century BC. It was probably occupied by the Celtic tribe of Cotini. Roman authors mentioned mining activities of Cotini, who lived in today's Central Slovakia until they were deported to Pannonia within Marcomannic wars with Rome. The site was also settled by early Slavs, and the Slavic fortified settlement was situated here in the 10th and 11th centuries. This land was called "terra banensium" (the land of miners) is already in 1156. In the high and late middle ages the town was a major producer of silver and gold in the Kingdom of Hungary. During the Ottoman wars, the Turks made concerted efforts to conquer rich mining towns in Upper Hungary. This new threat caused the Banska Štiavnica to build powerful fortifications, including two castles, in the 16th century. As one of the most important centers of Protestant reformation in the country, the town belonged to the Protestant "League of seven mining towns" together with banská Belá, banská Bystrica, Kremnica,Ľubietová, Nová Baňa, and Pukanec. Panorama from the height that goes with this web Cam, it opens a completely different view of the countryside.
Share webcam Panorama from height with your friends in social networks
Leave your comments and report bugs
We want you to help us become even better. Leave your comments and feedback, suggestions and ideas will be very grateful.
Most popular webcams in Banská Štiavnica
Webcam Zvolen, The city pool
Slovakia
Watch
Webcam Kosice, Ski resort
Slovakia
Watch