Webcam Kemerovo - Theatre square
See on webcam Theatre square and watch the weather in Kemerovo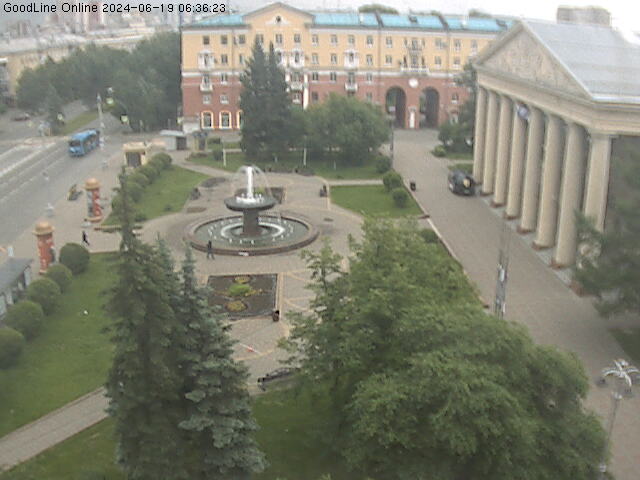 About webcam "Theatre square" in Kemerovo
Kemerovo is a city that has a fairly large number of cameras with the ability to broadcast live and watch from around the world. For example, today you have an excellent opportunity to carefully consider the theater area of ​​the city, which has a rather pleasant decoration and a beautiful view. Thanks to a lot of attention from the direction of the theater, which is located here, the yard territory was decorated in the best way. In the center of the square is a fountain, which in the warmth of time pleases the inhabitants with its splashing, sometimes there is a musical accompaniment, and the water performs the dance. If you watch the picture in winter, you can enjoy a pleasant glow of light bulbs. Near the road to the left, the theater square is similarly decorated with a small set of light bulbs that complete the overall picture and allow you to just get a lot of fun. In combination with the central fountain, the picture turned out to be quite interesting and unusually attractive. Pleases the presence of trees, benches and lawns, which allow residents of the city to spend pleasant walks and simply gain spiritual energy, being close to the theater. Of course, through the camera it's difficult to feel the whole atmosphere of this magical place, but nobody canceled the fantasy. Now even a theater place can be an excellent occasion to spend your free time. It's enough just to turn on this camera and relax. Do not worry, the camera works around the clock, so it can be charged at any time with positive energy. It remains only to wish you a pleasant pastime and a good mood. Do not lose the opportunity to simply enjoy the atmosphere of such a pleasant and beautiful place. Especially you will be pleased with the illumination of the night city, which will accurately provide the viewer with pleasant emotions and memories.
Share webcam Theatre square with your friends in social networks
Leave your comments and report bugs
We want you to help us become even better. Leave your comments and feedback, suggestions and ideas will be very grateful.
Most popular webcams in Kemerovo
View list of webcams in the city
Kemerovo